Tom Queba Engineering Scholarships for Social Change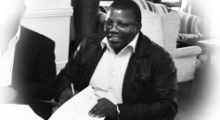 Canon Collins Trust in partnership with Tom Queba Memorial Fund is delighted to offer scholarships for Masters level study in engineering subjects at South African universities. We will award two scholarships per year in the name of Tom Queba.
These scholarships are offered in memory of Tom Queba, who was a leader in the George taxi industry. His passion, commitment and vision for improved public transport, and for the future of the minibus taxi industry in George, have contributed greatly to the achievement of the GO GEORGE bus service. He was tragically killed in 2014, which prompted Pegasys to form the Tom Queba Memorial Fund and establish this scholarship in his memory
Are you eligible?
Applicants must:
be a black female national of, and normally resident in, South Africa
be in possession of a good first degree (minimum second class, upper division or equivalent) or about to graduate in the year of application
be studying or applying to study at a Masters level in engineering subjects at a South African university
Preference will be given to those studying engineering subjects that have a societal benefit. 
Please apply only if you are eligible and meet ALL of the above criteria.
What we offer
In 2020, the value of the scholarship package will range from R20,000 to R100,000 depending on student circumstances. Funding will be provided for up to a maximum of two years. We support both full and part-time study and will consider applications from those who wish to study by distance learning.
We also organise an annual conference for current scholars, and hold several smaller events throughout the year. Scholarship holders are expected to participate in these activities and to become part of and contribute to our network.
How to apply
We are now accepting applications. Please download and read

the guidelines carefully before applying.
You can apply by sending your completed

application form to scholarships@canoncollins.org.uk. Please download and save the copy of the applications form on to your computer before you fill it in. The deadline for applying is Monday 12 August 2019.