Impact Award Update: Youth Entrepreneurship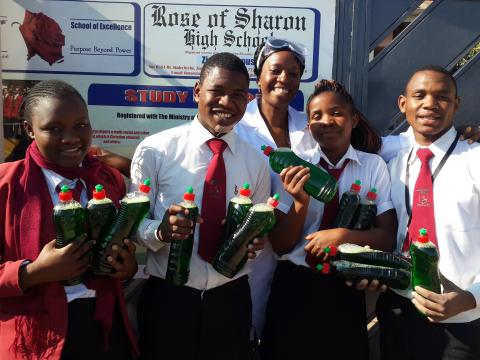 Harare, Zimbabwe
Using her Impact Award funding, Leah Matsinha (PhD Chemistry, UCT) has launched a project to equip young people with entrepreneurial skills. With her skills as a chemist, Leah is leading the sessions in soap-making to teach the residents of Rose of Sharon orphanage in Harare, Zimbabwe how to create products from basic materials, and how to run a business.
Four young people have been trained to make dish-washing liquid and toilet cleaner and they have already identified their first customer, the orphanage itself, which will be buying 25 litres of toilet cleaner every month from the project. The participants have been extremely enthusiastic and excited about taking part in the project and have all spoke about how it is changing their lives in a positive way.
Godknows Mukoyi is confident that participating in the project will help him along the path to financial and personal independence: "When I finish writing my O-Levels this year I will continue with the project and earn some money. I will use the money to fund my A-Levels and I will move out of the orphanage this year."
Another participant, Yvonne Zunyai, has developed a keen interest in science based on what she has leaned through the project: "It has already encouraged me to learn about science. At my A-levels I am going to take science subjects because it's really interesting to experiment further with what we have learned".
Leah won 'Impact Award' funding for this project at the Canon Collins Scholars' Conference in Cape Town in July, 2015.