Alumna advancing disability rights in Zim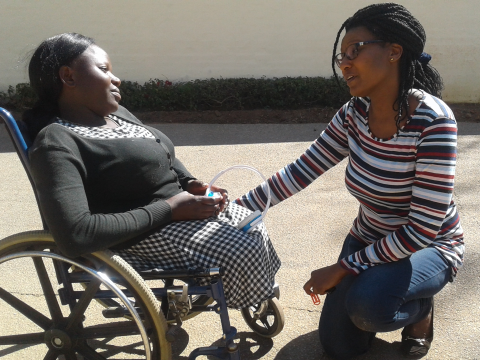 Harare, Zimbabwe
We spoke to Canon Collins alumna Christine Peta (PhD Disability Studies, University of Cape Town) about her newly launched NGO, and how she hopes to put disability issues to the forefront of the development agenda in Zimbabwe.
Christine explains the pressing need for a national, cross-sector disability rights initiative that is culturally sensitive and recognises the value of traditional knowledge systems and practices alongside international human rights dictates. 
Tell us about your academic journey. How did you become involved in the field of Disability Studies?
Raised in a big family with parents who were always ready to welcome both disabled and non-disabled members of our extended family into our two-roomed dwelling, I have experienced disability both personally and professionally, throughout my life. Through a basic education, marriage and decent employment, I largely managed to transcend my underprivileged socio-economic origins by my early adult years. Working in the international development sector allowed me to travel to other countries in southern Africa and beyond, opening doors of opportunity for me. However, on reflection, I realized that shifting to a middle class lifestyle had not obliterated the physical, cognitive, sexual and social imprints of poverty; an identity marker which forms a primary part of my origin. My heart therefore lies with reducing the suffering of those who live in the zone of my roots: a zone of invisibility, silence and marginalisation. My strong personal connection with disabled people and my interaction with them in the line of my development work inspired me to study for a PhD in Disability Studies at the University of Cape Town. I realise that my PhD studies form an integral component result of my personal, academic and professional biographies.
What are the primary challenges facing people with disabilities in Zimbabwe today? How do you intend to address these issues?
Zimbabwe is a low-income country which is currently experiencing significant political and economic instability, resulting in the neglect of key social issues, including the disability sector.  Consequently most people with disabilities are unable to access basic necessities such as education, health-care and sustainable livelihoods. Although the Social Welfare Assistance Act does make provision for the extension of aid to enhance the well-being of disabled people and their dependants, the Department of Social Welfare lacks capacity, and is under-funded and under-resourced, resulting in a precarious situation for disabled people.
I aim to partner with like-minded professionals to address the contextual challenges faced by people with disabilities and in particular to design intervention strategies that enable most disabled people to gain access to education, health and employment. Whilst people with disabilities may face challenges that are confronted by other citizens, their situation is further complicated by unique needs that are linked to disability. I intend to raise awareness of disability issues by encouraging open discussions amongst families, communities, schools, churches and health care centres from a constructive, traditional and contemporary perspective. These discussions will enhance an appropriate understanding of the subject, and will hopefully culminate in citizens realizing that waiting for the Government to intervene may be detrimental to the well being of disabled people. By equipping individuals, families and communities with knowledge that enables them to develop their own intervention strategies, a certain level of assistance that can be given to those in need may be developed. Whilst financial challenges will not disappear, a knowledgeable society may initiate community services that reduce the social hardships associated with disability.
By founding Disability Centre for Africa (DCFA), I intend to provide a focal point and a place of convergence for Disabled People Organizations (DPOs) that are currently stuck in distinct functional pockets, which are scattered all over the nation and that evidently do not speak with one voice. The objective is to build the capacity of such DPOs and to transform them to a vibrant and effective united disability movement, which mounts a collective struggle to promote human rights and effectively challenge the diverse range of oppressive practices that people with disabilities are subjected to across all sectors.
How do you see your work as contributing to broader social change in the southern African region?
My work seeks to nurture societies into achieving the full and equal participation and contribution of disabled people in all aspects of life, whilst taking contextual factors into account and bearing in mind that disability does not mean the same thing to all people in all societies. The unique angle of my work lies in the fact that it does not propagate a disability discourse which is underpinned by purely Western ideologies. The Western outlook often reduces traditional approaches to mere "cultural beliefs", which are not taken seriously in disability theory and practice, to the detriment of the well-being of disabled people in non-Western societies.  Whilst my work does draw on the definition of disability as articulated in the United Nations Convention on the Rights of Persons with Disabilities (CRPD), I also seek to pay adequate attention to the indigenous socio-cultural value systems of the African people, under which disability can be associated with witchcraft, ancestors, proverbs, taboos and traditional healers. By taking such an approach I do not mean to discourage international cooperation in the field of disability rights, nor to suggest that all African cultural belief systems are beneficial to local disabled people. However, I believe that different societies have distinctive ways of conceptualising disability and unless such differences are interpreted with empathy and are clearly understood, it may be difficult to improve the conditions of disabled people in the Global South, and particularly in African countries. I therefore call upon local and international scholars and practitioners to guard against undermining indigenous ways of understanding disability or dismissing traditional knowledge as mere superstition but to seriously engage with alternative ideologies and to foster an inter-cultural exchange of ideas which is likely to result in broad and positive societal change.
In what way did your Canon Collins scholarship, and membership of the Canon Collins community, impact your approach to social justice issues?
When I applied for a Canon Collins scholarship, the "scholarship in action" theme challenged me to engage in a process of deeper reflexivity as I sought to clearly articulate to both myself and to Canon Collins the specific social justice issues that I intended to address. Acknowledging the shortcomings of research which is not acted upon, I made a commitment that I would move the focus of my PhD from the academic realm to the real world, in an effort to meaningfully and practically improve the lives of disabled people. The key note speech that was delivered by Professor Adam Habib (Vice Chancellor, University of Witwatersrand) at the 2014 Canon Collins Scholars' Conference further underscored that the education that I was acquiring was meant to empower me to be an agent of change in broader society and to tailor-make development interventions to suit a particular context. I learnt that networking is a powerful tool for advancing my own agenda and that of others; the ultimate result being the interdisciplinary advancement of social justice issues. I met fellow alumna Professor Juliet Perumal from the University of Johannesburg for the first time through the Canon Collins network, and she introduced me to some academics from the University of Amsterdam who, in November 2014, invited me to be a guest lecturer on the subject of the Sexual and Reproductive Health of disabled women. Other scholars that I have collaborated with through the Canon Collins community include Pancho Mulongeni from Namibia, who attended my research presentation at the University of Cape Town and provided me with constructive feedback that would go a long way in positively impacting on my approach to addressing social justice issues.
What are your long-term professional plans? What would you like your ultimate contribution to be?
Considering that disabled people form one of the most marginalized minority groups in the world, I dream of a day when disability is effortlessly or naturally made an integral part of development frameworks, agendas and processes across all sectors. Using the vehicle of DCFA, I intend to lead an initiative for inter-agency cooperation where government and quasi-government institutions, donors, NGOs, civil society, media, legal and health professionals, educators, social workers, caregivers and researchers, are all working together to come up with interventions that ensure a total inclusion of disabled people in all facets of life. I am fully committed to building mutual and sustainable engagements with local, regional and international partners to collectively address the concerns of disabled people, with the intention of securing their health, education, well-being and prosperity, thereby bringing the concerns of people with disabilities from the periphery of society to the fore.