African Human Rights Moot Court success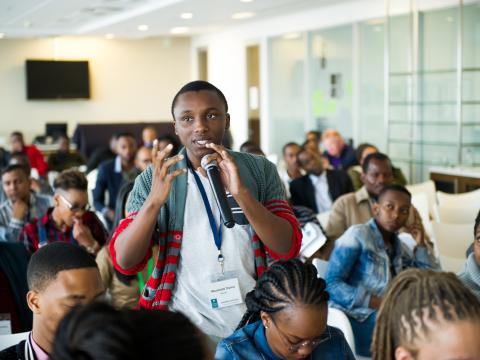 Friday, September 28, 2018
Southern Africa
We have been speaking to Nkosinathi Thema, final year LLB student at the University of the Western Cape, about his trip to Ghana for the African Human Rights Moot Court competition and his reflections on being a Canon Collins Leigh Day scholar.

Q. How did you get the opportunity?
A. Each year, the Centre for Human Rights invites universities from across the continent to take part in the competition. The Centre calls for 2 participants from each university. It is then left to the individual universities to select students who will best represent their university. In my case, the faculty held internal rounds, where students were invited to prepare oral arguments on one of the issues in the case. I and Ms Amanda Mpedi were then selected on the strength of our arguments.
It must be said, however, that that was the easy part. After selection and registering the team, we are then expected to prepare written arguments. These require a lot of research and meticulous understanding of the many aspects in International Human Rights Law, followed by many weeks of training for oral arguments. Fortunately, we were coached by Mr Kessler Perumalsamy, who is a skilled and respected advocate (barrister) and a lecturer in our faculty.
Q: Tell us about your experiences there and what you gained from it.
A: This year, the competition was held in Ghana and we were hosted by the University of Ghana. The hypothetical problem dealt with issues around Self-Determination, Torture and Human Trafficking – all important issues. The central focus at this year's competition, however, was the prevalence of witch camps in various countries on the African continent. In this way, the competition sought to draw attention to the continued victimisation of women and the discrimination they face.
Oftentimes when villages face periods of strife, or encounter certain problems which may seem out of the norm; blame is placed on the most vulnerable, who are then accused of witchcraft. Research shows that in almost all these instances, it is older women who are accused of witchcraft, and are driven away from their homes to these witch camps. Although many claim that these women are free to leave the witch camps, the reality is that should they leave, they risk further victimisation from their communities.
In terms of what I gained, I think working with real issues that affect real people on our continent, leaves one with a greater appreciation of the value of the work done by all those who advocate for human rights - this cannot be gainsaid. Theirs is a profession that touches upon the lives of the most vulnerable, and strengthens the dignity of all peoples. Further that, as scholars, ours is to work tirelessly to ensure that individual liberties and rights are jealously guarded and reinforced.
I was left with greater confidence that the future of this continent is a bright one. To be surrounded by individuals from across the continent who share a common goal for the prosperity of Africa, was really an uplifting experience. To share our differing views on certain political subjects, yet still agreeing on the core mission to uplift all Africans, was an insurmountable experience. This was easily, the most valuable experience of my studies, and the experience as a whole, is something I will keep with me for many years to come. Finally, having the president of Ghana address us and encourage us to continue the work that we do as legal scholars, was also a great highlight of the competition.
Q. What would you say to potential Leigh Day Scholars about applying for this experience and also the Leigh Day Scholarship?
A. The Moot competition is founded upon the premise of human rights, and is structured in a way that aims to foster dialog about various issues in this area. This fits well with the Leigh Day Scholarship, of which, its fundamental premise is the advancement of Human Rights through scholarship in Southern and South Africa. Canon Collins scholars are rooted in the advancement of social justice and by implication, the advancement of people's liberties (human rights), through our commitment to activist scholarship. It is upon this ambit that I encourage all scholars, who are studying law, and those who are yet to join us, to avail themselves when this opportunity presents itself each year. If anything, this experience makes you appreciate the importance of the work that Canon Collins encourages us to do for our communities. 
Nkosinathi's team ranked 15th out of the 40 English teams participating and he himself ranked 18th out of 80 participants for oral arguments which is fantastic achievement.
Applications for Leigh Day scholars for final year LLB students at UWC and UFH are now open and close on Sunday 7th October. Find out more by clicking these links:
-University of the Western Cape students