A new era? Reflections from Zimbabwean alumni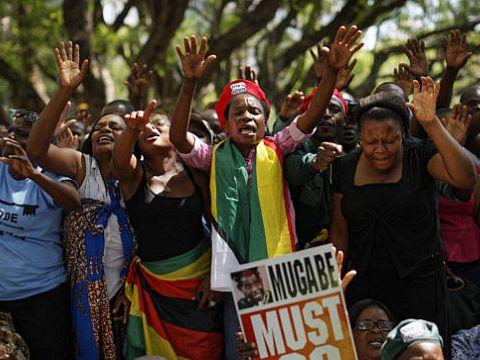 Harare, Zimbabwe
November 21st was a momentous day for Zimbabwe. Following a week of sustained pressure from the Zimbabwe Defence Forces, opposition members, activists, ordinary citizens and large sections of his own party Zanu-PF, Robert Mugabe stepped down as President of Zimbabwe, bringing an abrupt end to his 37 years of increasingly repressive and destructive leadership.
In this crucial transitional moment for Zimbabwean politics and society, we spoke to members of our alumni network about their hopes, expectations and fears for the future of the nation without President Mugabe.
While these young professionals, academics and activists are united in bidding good riddance to the autocratic nonagenarian, it is clear that optimistic predictions of an inevitable shift towards participatory democracy, greater civil liberties, and economic stability have been tempered by the somewhat troubling nature of the transition. New President Emmerson Mnangagwa's deep complicity in some of the most heinous crimes of the previous regime, the immediate sidelining of opposition parties, and the dangerous precedent of military intervention in national politics are all cause for concern. It is imperative that members of Zimbabwean civil society remain cautious, alert, and continue to press the Government to respect and uphold the human rights of the Zimbabwean people.
Delta Ndou (PhD Media Studies, University of Cape Town) is a Zimbabwean blogger, journalist and gender activist.
She says:  "I thought at the time [of the military action] (not knowing the nature that it would take) that a military coup would be too high a price for the average Zimbabwean to pay in order to end up with an anything-but-Mugabe-change wherein the same oppressive system remained intact. I imagined the price that the ordinary Zimbabwean might pay for a military intervention would be in the form of blood-soaked streets, mayhem, violence, death, destruction — and years of strife (owing to my Matabele upbringing, the social memory of Gukurahundi is ever-present and with it, a residual mistrust of Mnangagwa and the military).
Over the last couple of days, I have censored and restrained myself — content with retweeting and reposting the views that resonated with my own dissonant disposition. Because I don't have the energy nor desire to be constantly attacked for (and to repeatedly explain) my mixed feelings, my misgivings, my dissonance and my unshakeable sense of foreboding.
I maintain that the military has no place in civilian affairs whilst enjoying (the military-facilitated) post-Mugabe day. Indeed, good riddance to Mugabe… and may God bless my motherland. A truly terrifying precedent has been set."
Dewa Mavhinga (LLM International Human Rights Law, University of Essex) is a human rights researcher and activist. Dewa is Southern Africa Director at Human Rights Watch.
He says: "Now that the military has been at the forefront of deposing one of their own' we should be mindful that [new President Emmerson] Mnangagwa' the military leadership and Mugabe are cut from the same cloth. These are comrades and allies who have just turned on each other but whose system remains and continues.
The best we can expect Emmerson Mnangagwa to do, as way of making a clean break with past, is to appoint a cabinet based solely on merit. His choice of cabinet will show clearly whether the country has made a fresh start or if it's business as usual.
Zimbabwe's next government should reform the military to prevent interference in civilian & political affairs, undertake electoral reforms towards free & fair elections where Zimbabweans choose their leaders without fear and ensure respect for human rights and rule of law."
Yeukai Mukorombindo (PhD Sociology, Rhodes University) is a researcher and social justice advocate who currently works for the Public Service Accountability Monitor.
She says: "Prior to and since the resignation of Mugabe and by the time a new president was inaugurated, I felt exhausted. Like many Zimbabweans I was caught unaware. Nothing could have prepared me for such a tumultuous change in our personal lives and the history of this nation. What I remember most poignantly is experiencing a roller coaster of emotions, varying from excited, angry, sad, happy, weary, content to dissatisfied and to this day, the emotions keep changing.
Zimbabweans are not united on the outlook of our country's future. Some are hopeful, positive and optimistic whilst others are skeptical, angry and pessimistic. Feeling suffocated by these divisions, I choose to not speculate about the next 10 years, 10 months, 10 weeks or even 10 days! I have decided to take it one day at a time. I am taking the pressure off Zimbabwe getting it right and being right. I am careful to not confuse this safe space I have carved out for myself as hopelessness or hopefulness. This is being comfortable with the fact that hope is uncertain. It is about coming to a place of being able to live with the uncertainty of hope."
Lenin Tinashe Chisaira (LLM Law, University of London) is a Zimbabwean lawyer, writer and activist.
He says:  "Events surrounding the November 2017 military action have revealed a number of lessons and insights for the democracy and human rights movements in Zimbabwe and beyond. These include the need for an ever-vigilant and vibrant opposition and civil society sector, the need for clear-headed watchdogs for human rights and constitutionalism during the heady moments of a "revolution" and the need to check the implications of partisan military involvement on the future of democratic politics.
A main concern for people within Zimbabwe has been on organising around socio-economic challenges. Zimbabwe has had significant civil society, trade union and students' movements at various stages of its post-colonial history. However, in the decade since 2005, there has been a marked failure by mainstream opposition parties and most of civil society to develop pro-poor alternative economic plans. Instead these sectors have developed neo-liberal manifestos and pro-business policy briefs that have never resonated with the majority of the working class populace. In the absence of a pro-people civil society and opposition sector, the ordinary people saw the November military action as the clear salvation against the years of President Robert Mugabe's economic and policy blunders."
Felix Tembo (MA Human & Sustainable Development, University of Leeds) works in peacebuilding and environmental protection in Zimbabwe.
He says: "It was like a dream when news of Robert Mugabe stepping down filtered through the streets of Harare. The solidarity among key players was amazing especially in view of the political polarization in Zimbabwe. It was refreshing to see the general public, activists, university students, the military, Zanu-PF and opposition parties rallying behind a common cause- that is, to see the President go.
Personally I look forward to; the restoration of our pride as Zimbabweans and the return of compatriots who had been forced to leave to do menial jobs in other countries; the building of bridges between Zimbabwe and other nations, resuscitating bilateral and multilateral ties, rejoining the Commonwealth and coming up with domestic and foreign policy frameworks that attract direct investment for the good of our people.
The past is best left behind. Although it's early days, I foresee a new socioeconomic dispensation that will enable people like me to fully utilize my knowledge and skills which I feel were underutilized in a constrained environment."
Webster Mavhu (PhD Social Science, University of Leeds) is a public health specialist with more than 15 years' experience working in HIV/AIDS prevention, treatment and care.
He says: "I was attending an AIDS conference in South Africa when the army intervened and could just not believe my ears and eyes. After returning to Harare, I joined crowds of almost 2 million people supporting the army move and calling for Mugabe's ouster. Mugabe's resignation only came 3 days later - he is not an easy man.
Ensuing celebrations reminded me of 18th April 1980. I was only 4 years old but I still remember the exhilarations as Mugabe ascended to power. For the first decade of his rule, I believe Mugabe tried his best and invested a lot in education. For example, I received free education from my first grade to my first university degree, despite being the son of peasant farmers. However, Mugabe was to later undo his early achievements and oversaw the devastation of Zimbabwe. Now that he is gone, unemployed university graduates who could previously only earn a living as street vendors are hopeful for a brighter future."
Patrick Tom (PhD International Relations, University of St. Andrews) is a conflict studies and peacebuilding expert.
He says:  "As we celebrate the end of Mugabe's 37-year reign, we should not forget that the oppressive system that he inherited from Ian Smith has not changed. This outdated system needs to be replaced by one that prioritizes human security; this will be a serious challenge for President Mnangagwa."
Image credit: Ben Curtis/AP