National day of action: #FixOurSchools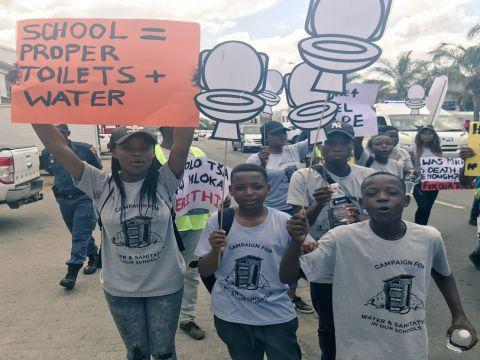 Wednesday, November 29, 2017
Limpopo, South Africa
November 29th marks the one year anniversary of the South African Department for Basic Education's (DBE) missed deadline to implement the first phase of Minimum Norms and Standards for School Infrastructure. In response to the failings of the DBE and nine provincial education departments to meet deadlines to improve water, electricity and sanitation facilities in schools across South Africa, our partners at Equal Education organized a day of national demonstrations. The protests come in the wake of the recent recent trial into the death of Polokwane schoolboy Michael Komape, who drowned in a dilapidated and dangerous pit toilet at school in January 2014 at the age of five.
Equal Education organized protests across the Eastern Cape, Western Cape, Gauteng and Limpopo in response to the DBE's negligence in providing, and efficiently spending, money to improve school resources. They point out that government funds have continuously been diverted to bailout corrupt and underperforming state-owned organizations including South Africa Airways and The Passenger Rail Agency of South Africa rather than providing desperately needed facilities for learners in disadvantaged communities. In their media statement, Equal Education have highlighted the prevailing inadequacies in school infrastructure, including the 4,624 schools that are equipped only with pit latrines, despite their being banned by the Norms and Standards regulations, and the 1,017 school buildings still made from inappropriate materials, including mud, zinc, wood and asbestos.
The protests included a number of marches across the country, culminating in the handover of a memorandum detailing Equal Education's demands for school improvements in the various South African provinces. Protestors placed a pit toilet outside Limpopo Department for Education to protest against the continued presence of inadequate toilet facilities three years after Michael Komape's death. The Head of Department at Limpopo Department for Education, Beauty Mutheiwana, was handed a memorandum detailing demands for school infrastructure with the expectation that the Department responds by the 8th January.