LRC fight for fairer eviction process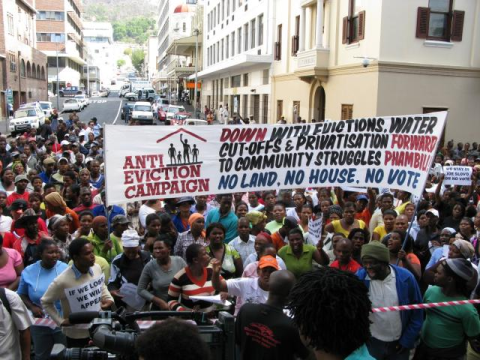 Johannesburg, South Africa
In a recent case concerning the evictions of various long-term informal occupiers of a building in Johannesburg, our partners at the Legal Resource Centre represented the Poor Flat Dweller Association (PFDA) as "friends of the court", championing the necessity for the court to consider justice and fairness when granting evictions.
A key injustice in this case that was highlighted by the LRC was that the order for the eviction was based on the consent of only four people, who were not entitled to represent the community of occupiers. Ultimately the LRC were successful in relaying to the Constitutional Court that the occupiers could not have validly waived their constitutional and statutory rights as they were not aware of those rights.
Furthermore, the LRC presented submissions that emphasised the importance of considering all the relevant circumstances of the occupiers (section 26(3) of the Constitution) before imposing an eviction order. Due to the extremely sensitive and personal nature involved in the process of forcibly removing an individual from a premises they consider to be home, such a consideration must be regarded with paramount importance. In failing to do this, the court had effectively deprived them of a fair public hearing, which a right that is provided under Section 34 of South Africa's Constitution.
The Constitutional Court's recognition of this breach resulted in a judgement that was consistent with LRC's submissions, thus has the capacity to safeguard the rights of numerous individuals facing mass eviction.
Since its foundation in 1979, the LRC has been at the forefront of a series of a landmark cases that have compelled the government to fulfil their Constitutional obligations with regards to the progressive realisation of socioeconomic rights, and ensured that vulnerable people are not left homeless, which is a unfortunate reality of imposing eviction orders as was the issue in the present case.
Further information about the LRC's historic battles concerning the right to housing in South Africa can be found in our 2016 Annual Review (pages 12-13)