#KnowYourConstitution campaign with SLSJ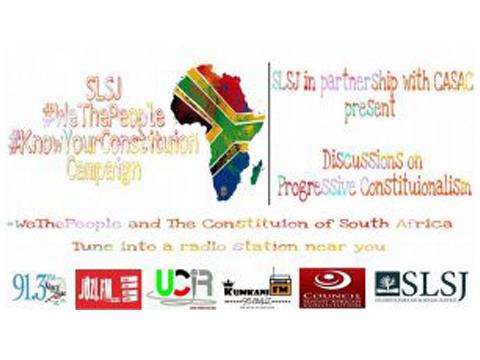 South Africa
In May 2017, CCELAT announced an exciting new civil society partnership with Students for Law and Social Justice (SLSJ), a South African students organisation that is dedicated to protecting human rights, preventing discrimination and promoting social justice and the rule of law. The focus of this partnership has been the #WeThePeople/ #KnowYourConstitution campaign which seeks to promote greater public understanding of the law and human rights, by educating and engaging communities in discussions relating to the legal rights and protection enshrined within the South African Constitution.
The impact of this campaign has been felt across the country as SLSJ galvanised students from various South African universities, including the University of Cape Town, Western Cape, Fort Hare, KwaZulu-Natal, North West, Stellenbosch, Witwatersrand, Pietermaritzburg and the Free State to take part.
The students conducted a series of extremely successful and well-received radio talk-shows as a way to stimulate dialogue and discussions that have the potential to galvanise communities to seek out further legal education and improve their abilities to access justice. 
At Walter Sisulu University, a radio news show, led by SLSJ members provoked a fiery discussion on the state of the constitution after 22 years of democracy. Presenters and listeners passionately debated the merits of what progress had been made over the years and the extent to which oppression is still prevalent and undefeated. 
The second part of the #WeThePeople campaign, which will be in the form of community-based discussion forums, is expected to commence later on this year.