EE highlight school sanitation crisis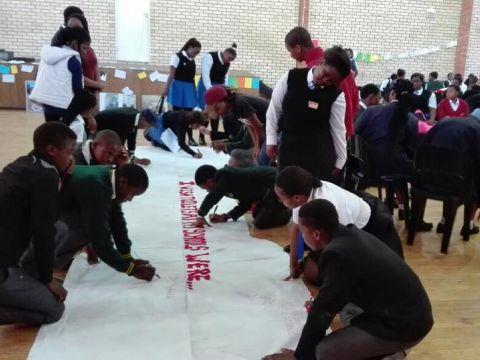 Wednesday, August 9, 2017
Eastern Cape, South Africa
To mark Women's Day in South Africa on August 9th, our partners at Equal Education held a meeting to highlight the gendered impact of undignified and unsafe sanitation facilities in many South African schools. More than 500 Equal Education members from the Eastern Cape participated in this event, writing letters to the Eastern Cape Education Department, describing the appalling state of the toilets at their schools.
The legally binding Minimum Norms and Standards for School Infrastructure states that by 29 November 2016, all schools were to have been provided with basic provisions including power supply, water supply and sanitation. The reality however is, even where schools have been provided with some upgraded sanitation facilities, these often remain entirely substandard.
Last year, Equal Education investigated the state of sanitation in 60 Eastern Cape schools. The findings of this research, as detailed in their Planning to Fail Report, include the following:
There are very few toilet facilities for learners with disabilities.
Only 15% of schools visited had flush toilets installed.
The learner to toilet ratio, in terms of the Norms and Standards for School Infrastructure is not applied. At 52% of the schools there were more than 30 learners per toilet, and at 65% there were more than 30 learners per working toilet.
At one school, the ratio of learners to working toilets was 294:1.
Toilets were routinely filthy. Broken and insufficient toilets frequently led to entire schools depending on two or three pit latrines.
Learners lack toilet paper and soap and waste bins.
A lack of maintenance staff and lack of funding contribute to poor conditions.
On Women's Day, Equal Education members took the opportunity to remind the Eastern Cape Education Department of the severe impact that a lack of decent sanitation has on learners - and on female learners in particular. Equalisers (EE youth members) point out that girls are disproportionately affected by unsanitary school bathrooms, fearing for their safety where bathrooms have no doors, risking exposure to infections, and often having no suitable place to discard sanitary towels.
As part of this mass action, learners drafted their own set of standards that stipulate what sanitation at their schools ought to look like, calling for safe and dignified toilet facilities. The letters, and the Norms and Standards drafted by learners, will be sent to Eastern Cape Education MEC Mandla Makupula.
According to one learner:
"The sanitation infrastructure at public schools is very bad, so much in a way that it has an effect on learners, for example: female learners are affected by getting diseases. The toilets are bad and they have an impact in our lives because you cannot stay long hours at school without going to the toilet."
The Canon Collins Trust has been working closely with Equal Education since 2013 towards the goal of securing universally accessible, quality basic education for South African learners through advocacy and activism.