Personal Development and Leadership retreat with EE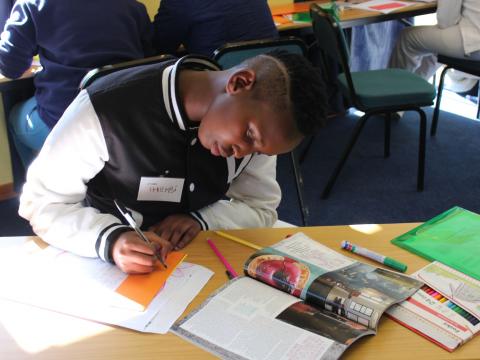 Eastern Cape, South Africa
Our partners at Equal Education are invested in supporting the development of young people who will make genuine and meaningful contribution towards equality and social justice in South Africa. The training and upskilling of EE's network of youth organisers, known as 'facilitators', is vital to the implementation of the organisation's key objectives to promote quality, equally accessible education across South Africa.
The facilitator's role is predominately to encourage high school students who are involved with EE's campaigns, or 'equalisers', to develop the values, discipline and self-confidence necessary for their intellectual, political and leadership development. Specifically, youth group programming is designed to encourage equalisers to engage and think critically about the South African education system, society, law and public policy.
The success of the programme can be attributed to the quality of the facilitators themselves. These hard-working youth organisers have received continued support from Canon Collins South Africa Manager, Gillian Attwood, who from the 20th to 23rd June, joined our partners at Equal Education's Eastern Cape branch to deliver yet another highly successful 'Personal Development and Leadership' workshop. This afforded the facilitators the opportunity to strengthen their facilitation and leadership skills. Retreats also encouraged facilitators to gain self-awareness and enhance their personal development as leaders through introspection and reflecting upon their own journeys to leadership positions.
The training was thoroughly enjoyed by participants who were able to engage and come to understand each other on a more personal level, bonding as a group in relation to their work as EE activists united as part of a bigger movement. This will inevitably prove helpful and productive in terms of the team working together more effectively on future projects and campaigns. This was emphasised by one facilitator in attendance, "I liked every session, it was educational learning about myself in relation to the life experiences of others. I understand that we really have a lot in common even though we may seem different to one another".