EE demand infrastructure improvements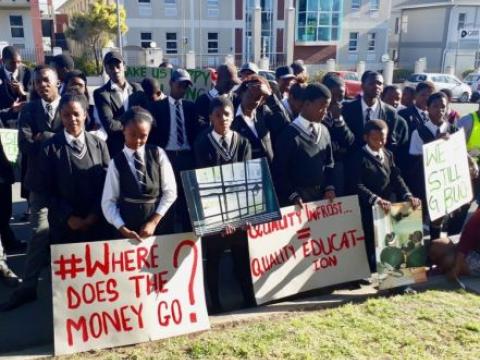 Port Elizabeth, South Africa
Our partners at Equal Education are in the process of organizing several protests demanding improvements to school infrastructure and police presence across the Eastern Cape. Last Wednesday members of Equal Education and local children attending Hector Petersen High School and Vukile Tshwete Senior Secondary picketed outside the offices of the Coega Development Corporation. Coega is one of the eight government agencies responsible for administering infrastructural improvements to schools across the Eastern Cape. Section 217 of the South African constitution outlines Coega's obligations on behalf of the National Department of Education to procure contractors to implement the necessary infrastructural improvements to Eastern Cape schools to ensure education is delivered in safe, reliable buildings. Yet Equal Education highlight that the CEO Pepi Silinga enjoys a lucrative salary of R4,563 million at the expense of falling school standards. Members of the Governing Body of Vukile Tshwete Senior Secondary even argued that they had been waiting 21 years for a new school building, which should have been implemented as part of the Regulations Relating to Minimum Uniform Norms and Standards for Public School Infrastructure.
In response to such neglect Equal Education issued a memorandum to Coega Programme Manager Thembeka Poswa following the protest last Wednesday, explaining that "the various actors responsible for fixing our schools…have not succeeded in their mandate to undo the apartheid government's systemic underdevelopment of our learning environments." The Memorandum highlights seven key reasons why the protests are taking place and a number of school cases, including that of Vukile Tshwete Secondary, where the infrastructure agencies are failing to address. Moreover it sets out a series of demands related to Coega's future operations, to which the Communications and Stakeholder Relations Officer for the organization, Simlindele Manqina, rebuked by arguing that Coega has successfully implemented 97% of its allocated projects. However she admitted that there were delays in the process owing to stalls in payments and red tape.
Earlier in the month, Equal Education sent 250 members to protest outside the Department for Basic Education in Pretoria, demanding government grants to fund transport services for children walking extreme distances every morning to reach schools in its 5 provinces. A series of protests are also planned for the coming weeks to improve police visibility in areas where children are targeted by drug dealers whilst travelling in and out of school.