Canon Collins E-News July 2018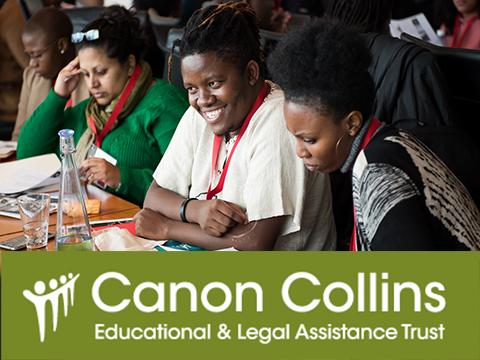 London, United Kingdom
Dear Friends,
July was a month of Mandela Centenary celebrations, both in South Africa and in the UK. The 
Centenary Exhibition
 opened at the Southbank Centre in London to commemorate Mandela's life and legacy to great success, and the Canon Collins team in London celebrated the 18th July with an 
event at the Canon Collins London offices
 in collaboration with the 
Nelson Mandela Children's Fund
, where 
Ipeleng Khunou
, gave an inspiring speech about continuing Mandela's legacy and his 
completion of the Two Oceans half marathon on crutches in 2018
.  
In mid July, we held our 
UK scholars' lunch
 at our London offices. where many scholars presented their research in public health and environmental studies. It was an opportunity for UK Canon Collins scholars to catch up and to reflect on how their research can contribute to social change in the southern Africa region. 
July was also a month of big changes for our two main partners, the 
Legal Resources Centre
 and 
Equal Education
, who both saw the
 introduction of new leadership
. EE also won an extremely
 important victory
 in their campaign for school infrastructure in the Eastern Cape when the Bhisho court ruled that delays by the government in providing school infrastructure were unconstitutional.
We are also thrilled that the 
Canon Collins Conference videos 
are now up on our youtube channel, so please do check them out!
Thank you for your continued support of Canon Collins scholars and partners,  
Best wishes,
Katie Connan
Learning, Knowledge and Communications Executive