Celebrating International Women's Day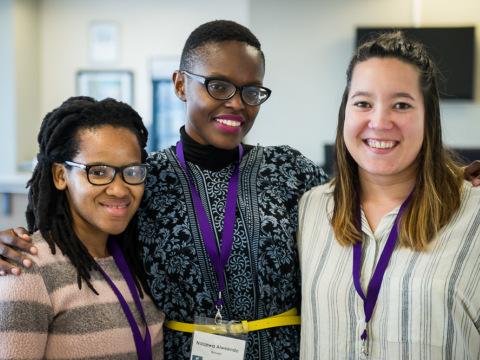 Worldwide
In honour of International Women's Day, we would like to celebrate the achievements of the many Canon Collins scholars and alumni working tirelessly towards the promotion of women's rights across the southern African region.
The Bill of Rights, a cornerstone of democracy in South Africa, assures the rights of everyone to equality. According to the Constitutional Court, "It was not until the introduction of the Bill of Rights that all women in this country received formal recognition as equal citizens." Despite this, the dignity and body integrity of South African women are constantly undermined by violence, prejudice and persecution. The rate of sexual violence towards women in South Africa is amongst the highest in the world, with an estimated 500,000 incidents of rape every year. In Zimbabwe, only a handful of cases of marital rape have been tried in court since it was criminalised in 2001, reflecting the lack of training in law enforcement and deep-rooted social stigma surrounding the issue.
Whilst the number of South African women enrolling in higher education is on the rise, intersectional factors of race and class remain hugely restrictive for black rural women; with approximately 23% receiving no education and 28% being illiterate.
Since the early 1990s, there has been a growing recognition of women's role in agriculture in southern Africa. In Malawi, although women have a paramount role as farmers, they still face a number of disparities stemming from gender-based inequalities such as lack of access to assets and services.
International Women's Day draws attention to the significant issues still facing women in southern Africa, and around the world, today and serves as a catalyst for them to voice their rights in the face of adversity. Profiled below are just a few members of the Canon Collins community of "activist scholars" whose research and advocacy work is aimed at empowering women and fighting for gender equality.
Delta Ndou (PhD Media Studies, University of Cape Town)
Delta is an award-winning blogger who holds a BA in English & Linguistics from the University of Zimbabwe and an MA in Gender & Media from the University of Sussex. She more than five years' experience in journalism and is a 2014 Internet Freedom Fellow selected by the US Mission to Geneva for promoting freedom of expression on the internet through blogging and new media activism.
"Ultimately my goal is to empower women and girls by availing information that transforms their understanding of gender dynamics as a developmental process and a fundamental premise for the recognition and protection of their human rights."
Christine Peta (PhD Disability Studies, University of Cape Town)
Christine is a disability, public health care and development practitioner who holds a PhD from the Department of Health and Rehabilitation Sciences at the University of Cape Town. She is the founder of Disability Centre for Africa, an organisation that advocates the mainstreaming of disability in all development programmes in Zimbabwe. Her research focus whilst doing her PhD was on disabled women.
"Disabled women represent one of the most marginalised minority groups in the world. They are denied access to sexual and reproductive health services and remain silent whilst these needs are suppressed. I hope that through using unique and emancipatory research strategies in my PhD study, disabled women will be able to speak for themselves and collective action will be taken to lobby for effective gender-sensitive disability policy and practice in Zimbabwe."
Limbani Phiri (MA Gender Studies, University of the Western Cape)
Limbani works with Malawi's Human Rights Resource Centre as a Capacity Development Officer and by studying gender at postgraduate level, he hopes to remedy what he sees as a current gap in expertise in Malawi. Both the Ministry of Gender and the Malawi Human Rights Commission have incorporated Limbani in their special task forces to plan for national events like International Human Rights Day, International Women's day and the 16 Days of Activism against gender violence campaign.
"I am both a product and beneficiary of the belief of giving all children equal treatment and opportunities in life. My vision is to contribute towards the attainment of a non-violent society where both genders are empowered and free to participate in development issues and other matters that affect their lives."
Dela Gwala (MA Creative Writing, University of Cape Town)
Dela is a full-time feminist and post-graduate student at UCT. She has an Honours degree in International Relations and is currently studying for an MA in Creative Writing. Her plans are to publish a book of essays based on the theme of sexual violence and to engage in a 'Gender and Sex' project aimed at university students.
"I myself am a rape survivor and understand the impact that the narrative around sexual violence has not only on society-at-large but on survivors themselves. I hope to use every opportunity I can to reach out to people who have gone through this dehumanising experience - so they at least have one more voice of dissent destabilising the dominant victim-blaming narrative.